Natural Gold Nuggets • Nugget Jewellery • Gold Bought & Sold Daily • Gold Crystals • Gallery & Souvenirs | Goldfields Tourism Award Winners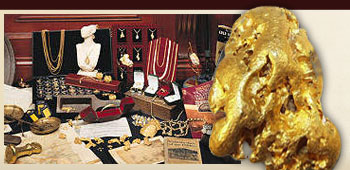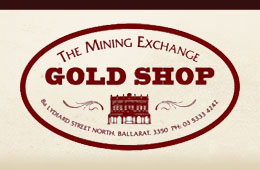 Manufacturers, distributors and retailers
of Gold gifts, Jewellery and Souvenirs
Australian Native Gold Pty Ltd | A.B.N. 88 058 905 418
8a Lydiard St North, Ballarat, Victoria, Australia
Telephone/Facsimile: +61 3 5333 4242
Email:
mail@thegoldshop.com.au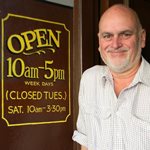 Contact us today!
---
Current Date & Time in Ballarat, Victoria
Monday 20th May, 5:30pm
Always Wanted: Historic & Antique Goldfields Books, Maps, Reports, Tools & Equipment
Welcome to The Mining Exchange Gold Shop website
Welcome to the Australian Native Gold Pty Ltd site for the world famous Ballarat award winning business, "The Mining Exchange Gold Shop".
We were the first to create a web site for gold nuggets in early 1993, and The Mining Exchange Gold Shop has been open and successfully helping people with their golden needs from all over the world for more than 10 years. The nuggets we offer and the gold nugget jewellery we manufacture locally are spread through out the world. Please feel free to enter our web site, or do like tens of thousands of people have, and call into The Mining Exchange Gold Shop at the front of the Historic Mining Exchange building in the heart of Ballarat, Victoria, Australia.
177 Ounce Nugget Found In Ballarat
Have you heard about the 177 troy oz. gold nugget (5,505 grams - 5.5kgs) found by a prospector with a hand held metal detector near Ballarat, Victoria, Australia on January 16, 2013.
We would like to thank every one from around the world for their expressions of interest in purchasing this nugget, we have received many genuinely good offers. This magnificent, 177 ounce natural nugget is officially Sold.
View the story of finding the 177 ounce 5.5 kg gold nugget
Please email us if you are interested in going onto our contact list to be notified first about other natural nugget finds!
Media Contact
For Media Contact Click Here

New Nuggets Online Now

Cordell has just finalised a new range of stock and they are now listed on the website.
There have been over 50 new Nuggets, Specimem Nugget and Crystals added and show the fantastic range available at The Gold Shop. If you have any question please contact Cordell or the girls at the shop. We hope you enjoy our new nuggets.
"The Golden Globe"

So you have seen the image of the gold nugget globe that I (Cordell Kent) made using a state of the art LaserStar welder. This globe was made as a test of the ability of the Laser welder to work with a difficult medium, to make a difficult shape, using space age technology. The effect is nothing short of stunning. Most people look at the nugget globe and see a roughly round shape, made from natural gold nuggets. Few people think about how difficult this was to make, and the technology that was used to make it.
Read the full story
The Golden Smile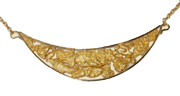 The Golden Smile is a magnificient piece of natural nugget artwork. Created from natural gold nuggets, all from the local goldfields, solid 9 carat yellow gold wire, and solid 9ct yellow gold chain, this very unique piece as made into stunning jewellery by Cordell Kent using his (space age) laser welder, and a hole lot of artistic and technical skill. Read more about the Golden Smile
The Southern Cross, nugget pendant.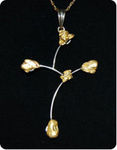 I have made a solid 9 ct yellow gold cross, with 5 natural gold nuggets in the form of the star constellation known as the "Southern Cross."
To the early gold miners on the Ballarat goldfields the Southern Cross constellation was unique as it can not be seen from the countries they had mostly come from. It reminded them that they were in a new country and that this country was full of hopes for freedom and wealth. Read more about the Southern Cross Pendant